My desire is to make financial assistance available to area women who are the victims of Breast, Ovarian, And Pancreatic Cancer.To accomplish this, my husband and I bought a website called MySearchGirl.com, a state of the art "pay per click" search engine.



What I need is some insight on the best way to promote this campaign.

We only have 40 days to raise money for this nonprofit or it won't happen. the url is:http://igg.me/at/my-search-girl/x/11098936 Please inform me as to the best way to get the word out. We on;y have 40 days!



---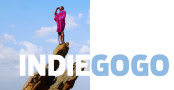 Indiegogo: The Largest Global Crowdfunding & Fundraising Site Online